Custom Aluminum Sprockets & Blanks
Premium High Strength Aluminum
Precision Hobbed Teeth - Not Stamped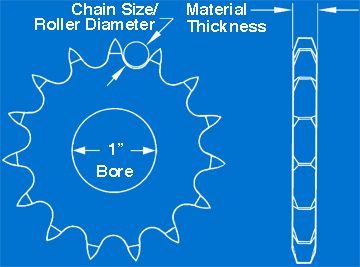 All Popular Chain Sizes
Hundreds of Patterns
Azusa offers the opportunity to order almost any Sprocket, precision machined with
hobbed (not stamped) teeth. Order Sprockets drilled with any pattern from our vast
pattern library ranging in the hundreds, for any chain size listed and with most any
number of teeth within the range listed.
TO ORDER: In the table below, find your CHAIN SIZE. Choose the NUMBER OF
TEETH you want and add it to the PART NUMBER in the table below. Finally, if
you are ordering a FINISHED Sprocket, always specify the BOLT PATTERN
you desire.
"FINISHED" sprockets come complete with
bore and bolt circle pattern precision
machined pursuant to the pattern
you specify, ready to mount.
"BLANKS" come with the specified number
of teeth and a 1" bore, perfect for those
who want to add their own bore and
bolt circle pattern.
CHAIN
SIZE
NUMBER
OF TEETH
ROLLER
DIAMETER
MATERIAL
THICKNESS
BLANK
PART NO.
FINISHED
PART NO.
 #35
 19-104
.306
 .125 to .160
T5201-*
T5313-*
 #41 (#420)
22-80
.306
 .200 to .227
T5203-*
T5314-*
 #40
 17-80
.312
 .249 to .284
T5206-*
T5315-*
 #42 (#415)
 28-48
 .306
.141 to .168
T5204-*
T5321-*
 #428
21-72
 .335
.249 to .284
T5207-*
T5320-*
 #520
18-64
 .400
 .200 to .227
T5208-*
T5316-*
 #50 (#530)
29-60
 .400
.307 to .343
T5210-*
T5317-*
 #630
28-48
 .468
 .307 to .343
T5211-*
T5318-*
*When ordering, add number of Teeth to Part No. & for finished
sprockets, SPECIFY BOLT PATTERN.