Flexpruf Steel Solid Axles, Stepped End
Our premium Deluxe Flexpruf axles are made of a higher
strength steel. The ends step down from 1" to 3/4" and
have a 3/4-16" thread. Two 1/4" keyways  are offset 180°
for stress relief, balance and un-restricted positioning of
brakes, bearings and hubs. Ends are drilled for your cotter
pins or safety wire. Plated and poly-wrapped for protection.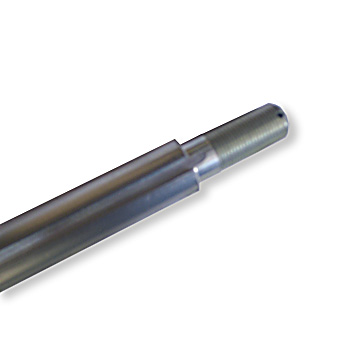 Brightly Plated Deluxe Flexpruf Steel
180° Offset Keyways
2" Stepped-Down Threaded Ends
1-3/8" Thread Length
1" Axle Diameter
AXLE
OD
OVERALL
LENGTH
SHOULDER TO
SHOULDER
PART
NO.
1"
34"
30"
1411-34
1"
36"
32"
1411-36
1"
38"
34"
1411-38
1"
40"
36"
1411-40
1"
42"
38"
1411-42
1"
44"
40"
1411-44