"Volare" Racing Jackets
Tri-Color Tailoring  in DuPont Antron® Nylon in 4 striking colors: Red, Blue, Black & White.
The 200 x 500 denier Antron® fabric provides vibrant sheen and superior abrasion resistance for safety.
The Volare Tri-Color design is divided into three sections. The selected "body" color
is carries over to the sleeves and cowl collar. A second collar for the upper chest panel
and vertical arm stripes and the third color (white) is used on the lower chest panel and
outlines the top chest panel and arm strips. The additional  one inch stripes, one matching the
body color and the other, the upper chest panel are sewn on the white chest panel.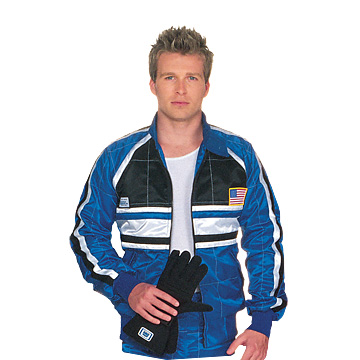 Adjustable Cowl Collar
Elbow & Shoulder Pads
Color-matched Knit Cuffs
Box Quilt Stitching
Poly-Tricot Lining
Full Zippered Front
Elastic Form-Fit Waist Band
| | | |
| --- | --- | --- |
| DESCRIPTION | SIZES | PART NO. |
| Volare Adult Racing Jacket | XXS, XS, S, M, L, XL, XXL | 1521 |