"Volare" Racing Suits
The Volare Tri-Color Design is divided into three sections: The "body" color carries over to the
sleeves and cowl collar. The upper chest panel and vertical arm stripes feature a second color.
The third color, white, is used to make the lower chest panel and outlines the top chest panels
 and arm stripes. The additional one-inch stripes, one matching the body color and one the upper
chest color are sewn on the white chest panel.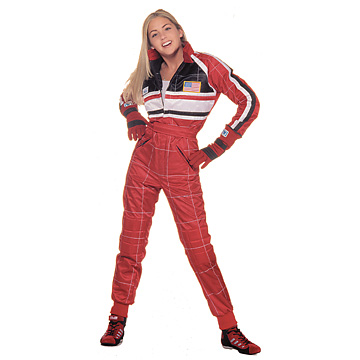 Adjustable Cowl Collar
Shoulder, Elbow & Knee Pads
Box-Quilt Stitching
Poly-Tricot Lining
Zippered Front and Pockets
Color-Matched Knit Cuffs
Adjustable Half-Belt
Elastic Foot Stirrups
| | | |
| --- | --- | --- |
| DESCRIPTION | SIZES | PART NO. |
| Volare Racing Suits | XXXS, XXS, XS, S, M, L, XL | 1525 |