Live Axle Bearing Components & Kits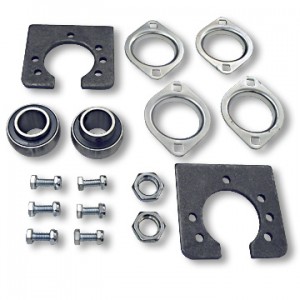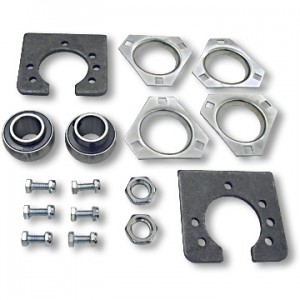 These Kits include everything you need to assemble a live axle
to your frame. The Bearing Hangers are designed to accept
either two or three hole Bearing Flangettes. Suitable for all
Azusa Axles. For very long axles, an additional bearing and
hanger may be needed.
LIVE AXLE BEARING KITS
DESCRIPTION
FOR
3/4" AXLES
FOR
1" AXLES
FOR
1-1/4" AXLES
Standard
Standard
Free
Spinning
Standard
Kit with 2 Hole Flangettes
1869-A
1861-A
—
—
Kit with 3 Hole Flangettes
—
1861-B
1864
1863
COMPONENTS - EACH
3/4" Axle Bearing (2)
8265
—
—
—
1" Axle Bearing (2)
—
8211
—
—
1-1/4" Free Spinning Bearing (2)
—
—
8209
—
1-1/4" Standard Bearing (2)
—
—
—
8208
Bearing Hanger (2)
8126
8127
8130
8130
Flangette, 2 Hole (4) or...
8282
8212
—
—
Flangette, 3 Hole (4)
—
8313
8217
8217
Bolts, 5/16-18 x 3/4" (6) or (4)
8421
8421
8421
8421
Locknuts, 5/16-18 (6) or (4)
8510
8510
8510
8510
Axle Locknuts, 3/4-16 (2)
8516
8516
—
—
BEARING HANGERS
Pre-Drilled for 2-Hole or 3-Hole Flangette
Quarter Inch Steel Plate
| | |
| --- | --- |
| DESCRIPTION | PART NO. |
| For 3/4" Axles | 8126 |
| For 1" Axles | 8127 |
| For 1-1/4" Axles | 8130 |